... have you ever asked yourself
SALTING
After resting one night in the refrigerated room to help bring the same temperature level to every single leg, the meat gets a
first hand of salt
by a highly trained salt master that gives the right quantity based on fat percentage and weight of the leg.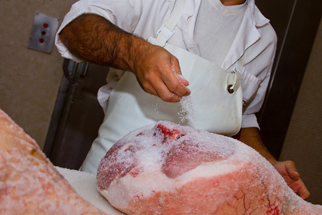 After spending a week in the "first salt" room, removing the residues and massaging the legs, a second coating is given; the salt master evaluates the right amount of salt to use to ensure the legs absorb whats needed.
In the following 2 weeks the legs are left in the so called "second salt" room.
In this stage the only ingredients needed are: salt, care, attention, and no additives nor preservatives.